Month:    February 2018 – March 2018
Artist:     Donna Marie Gaspar
Exhibit:  From Still Life to New Life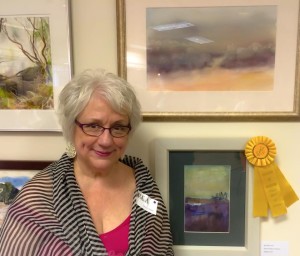 Dates:
Exhibit Opening Reception Date:
 Sunday, February 11, 2018 – 1PM-4PM
Exhibit Studio Dates:
Tuesdays 
2/13 1- 4pm
2/20 1- 4pm
2/27 1- 4pm
3/06 1- 4pm
3/13 1- 4pm
3/20 1- 4pm
Exhibit Closing Reception Date:
  Sunday, March 25, 2018 1PM-4PM

Bio
Artist Statement
From Still Life to New Life
… my journey to this show
The love affair began in Boston's North End at a Café Sketching Class in the Fall of 1993. Strolling on Hanover Street I tried to capture the scene – with pencil on newsprint. The two pieces Caffe Vittorio and IL Villagio are the result. The slight watercolor wash is my first attempt to "color" in water. Cheap paint and poor paper – add to the "nieve" quality of these gems, which hang in my kitchen and are never offered for sale. The instructor Jane Staffier suggested I try watercolor and the rest is history.
Having received my first pad of Arches as a gift, I selected a few good brushes, professional grade pigments and began my studies. In the beginning I worked alone, until I found my first master teacher and inspiration in Mary Callahan at North River Arts in Marshfield where for 15 years I painted from Still Life to master value, color harmony, and balance. My first solo exhibit here at the Cutter Gallery in 2001 represented that work.
I've pursued my muse to Italy, Paris and Provence. Continually, drawn to the coasts of Rockport, Gloucester, Maine, Truro and Provincetown, the Berkshire hills, the woods of Vermont, and my beloved Mt Auburn Cemetery I paint this world as I see it – often from memory – always out of the "box". "Mirage" and "Forest Visions" represent my favored current style.
Within the light, joy and color of this show, is devastating personal loss . My "sister" of 52 years, who never missed an exhibit is here in " Sunset for Carol Murphy " . My baby brother who left us suddenly in September, calls me to donate a portion of Still Life to New Life to a place near to his heart – Fidelity House. A proud FIHO supporter, Ron was, even in his last months, raising funds for the Current Capital Campaign to bring new life to the "old" FIDEL.
My fellow artist, teacher and friend Dawn Evans Scaltreto designed and hung this show with me and I thank her for her generous gift of time and talent.
Opening Reception Photos